HMO minimum bedroom sizes
In October 2018 the government introduced new minimum bedroom sizes for HMOs. These are:
Room used for sleeping by 1 adult: No smaller than 6.51 m².
Room used for sleeping by 2 adults: No smaller than 10.22 m².
Room used for sleeping by children of 10 years and younger: No smaller than 4.64 m².
Note in some areas these sizes are larger. So always check with a planning consultant or the local authority as to their minimum standards. In some local authorities they also have a minimum size for kitchens.
The local authority might discount some or all of the following items in deciding the available space:
Bathrooms/shower rooms.
Corridors.
Lobbies.
Chimney breasts, small alcoves etc.
Ceiling height.
Ceiling Height
There is no minimum height for a room under building regs, however other legislation or local plans might have certain criteria set.
Some local authorities will have a minimum ceiling height in bedrooms of 2.3m over at least half of the habitable floor area. Any floor area where the ceiling height is less than 1.9m (1.5m in attic rooms) will not count towards the habitable floor space.
Again check with your local authority.
If your HMO has stairs or stairs leading to an attic room, then building regs do have minimum heights.
Part K of the Building Regulations is the 'protection from falling, collision and impact', and advises that the head height for landing and stairs should be at least 2m as shown in the diagram below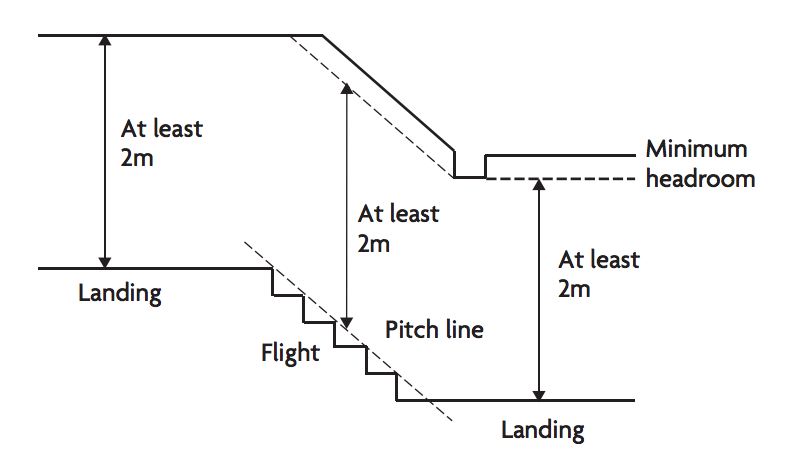 For stairs to a loft area, then a slightly lower height is permissible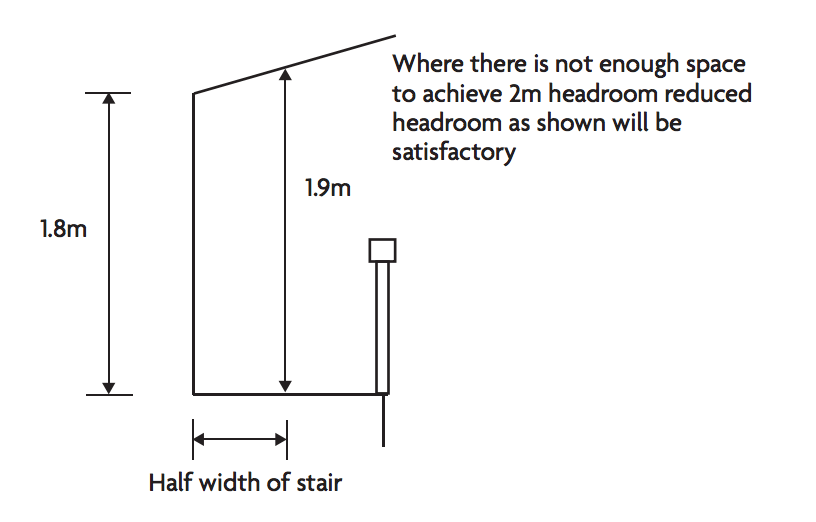 Page Updated: 21st November 2020
After many requests, we now offer a site appraisal service for just £449.
This appraisal will be from a developer's viewpoint letting you know the best options that you might have with your site or building of interest. No point in spending a large amount on professional fees if the deal has large potential issues from a planning aspect.
Or maybe we can find new angles that will increase your GDV and potential profit/income! Click here to start the process.