Minor or Major Planning Application?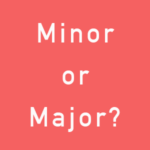 One of the first considerations when submitting a planning application to the local authority is – will it be a minor planning application or a major planning application? This is where planning permission has been requested.
Thankfully this is fairly easy to determine. The definition for major planning applications is made in the Development Management Procedure (England) Order 2015 or DMPO 2015 for short. This is of course subject to revision. All other applications should by default fall under minor planning application.
Major Planning Applications
A major development is any application that involves:
Mineral extraction
Waste development
Residential development of between 10 or more dwellings
Residential development on a site area of 0.5 ha or more and the number of dwellings is unknown
Development of floorspace of 1,000 sq m or more
Development on sites over 1 ha or more
Change of use over 1,000 sq or more
Minor Planning Applications
A minor development is any application that involves:
Residential development of between one and nine dwellings
Development where the floorspace is less than 1,000 sq m
Development on sites less than one hectare
Changes of use less than 1,000 sq m
Gypsy and traveller sites – up to nine pitches
There are other types of development also classed as minor planning, such as:
Householder applications
Adverts
Listed building consent
Or anything that is not considered to be a major planning application
Strategic Planning Applications
You may have heard of the term Strategic Planning Application. This is not a scale that is recognised by the government per se. It is more of a local authority decision.
Some local authorities will consider larger applications to be strategic in nature. This will vary depending upon the local authority. Although these are still major planning developments. This might be say over 300 dwellings or a commercial development of 10,000 sq m. Not all local authorities publish their guidelines for strategic planning applications. Typically such applications would be considered by a strategic planning committee if that exists.
Essentially more consideration might be given to larger schemes that might affect a larger number of residents or road users.
Timescales
A minor planning application should take 8 weeks, whereas a major planning application should take 13 weeks, unless as Environmental Impact Assessment is required and then the period is 16 weeks. This planning application period starts after receiving a valid application including payment of the fee.
I say should as these timescales are often exceeded due to workload at the local planning authority.
If the application has not been dealt with within these timescales, then you have a right of a appeal to the inspectorate for non-determination. Although in reality working with the officer might be the better option.
If the applicant has not exercised their right to an appeal, and the application remains undetermined after 26 weeks, then the fee paid my the applicant should be refunded under the planning guarantee.
Page Updated: 2nd March 2023