Property on Fire Podcast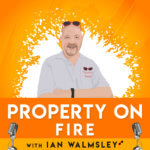 Listen to the regular podcast 'Property on Fire' by ian Walmsley, the founder of Planning Geek. Also available on every podcast platform!
Join Ian every week for a dynamic podcast with Ian and his guests on how to seize the opportunities out there before others do!
You will learn about planning from a developer's eye, you will benefit and learn together from the mistakes that Ian makes. He is very grateful for the opportunities that he has had and would love to share these with you his listener. Ask questions on any property related subject to [email protected] – he and his highly experienced guests will answer these questions for you.