Adopted

When a local plan or local development document is made final and it is usually voted upon by the full council, overseeing the Local Planning Authority (LPA) it is said to be adopted. This could of course apply to any other policy document issued by the local authority or indeed public body. Once adopted the policy or plan will form the basis of local decision making. More weight is given the plan or document the closer it gets to adoption. 
In the case of a local plan, this is a long procedure which might take a number of years. The flowchart below shows the stages towards the local plan being adopted.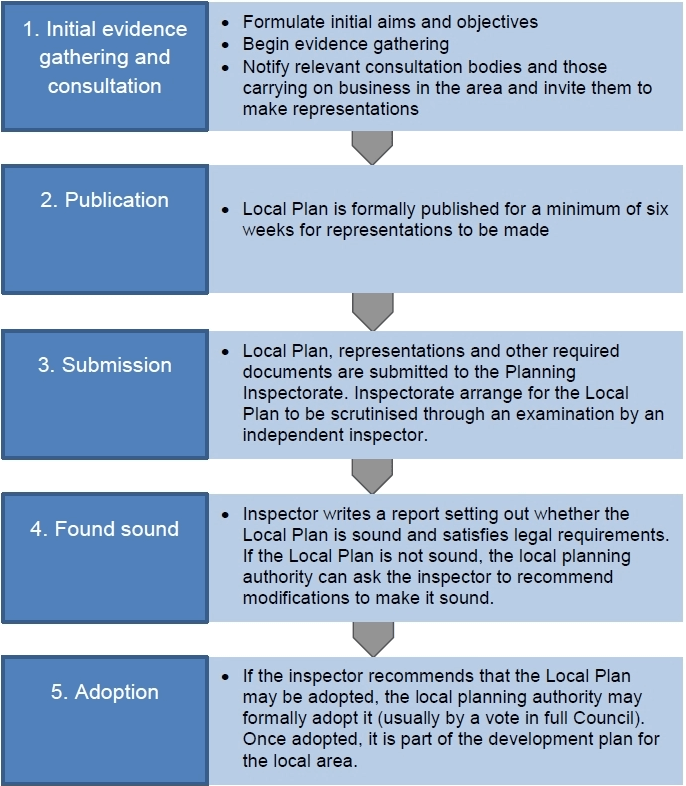 This image is from 'Plain English guide to the Planning System' published by the Department for Communities and Local Government in January 2015. rReproduced under the Open Government Licence
The Local Plan is covered elsewhere on Planning Geek. Each local planning authority (LPA) is required to have one, but how up to date they are is another matter!
Check out our glossary for many more acronyms and phrases in the world of property
Do you need help with a property? Unsure what to do next?
Book a 30 minute or hour Zoom session with Ian - The Planning Geek to discuss the opportunity that is before you. Click here to book a time that is convenient for your diary. You could be talking to Ian today!
Starts at just £147
'Full of content'
- Mark from Enfield

'Well worth the small cost - saved me hundreds in the long run, going down the wrong hole!'
- Louise from Clapham
'
Wow! Ian really is a Geek when it comes to property - so glad we booked an hour'
- Paul & Jo from Newcastle