Class C – add a Velux window & other roof alterations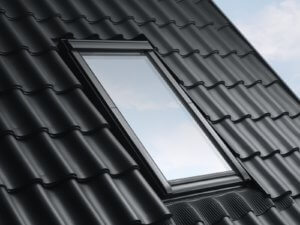 Do you need permission to install a Velux window in your roof?
You do not normally need to apply for planning permission to re-roof your house or to insert Velux windows, roof lights or skylights as the permitted development rules allow for other alterations to roofs subject to the following limits and conditions.
Any alteration to project no more than 150 millimetres from the existing roof plane.
No alteration to be higher than the highest part of the roof.
Side facing windows to be obscure-glazed; any opening to be 1.7m above the floor.
There are no restrictions on placing Velux windows, roof lights or skylights on elevations facing the street, however permission might also have been removed as a result of an Article 4 or a condition on a previous planning application. These permissions do not apply to flats or maisonettes. Nor do they apply to houses that have been converted from agricultural buildings, storage, light industrial, shops or casinos. They do however apply to houses (not flats) converted from offices under Class O.
Of course, Velux is a brand name and other manufacturers exists for such windows in roofs. Whether you install a Velux or another brand, just follow the rules and benefit from the extra light.
If you are looking to install a dorner rather than a Velux window, then refer to Class B of Part 1. Unlike a Velux a dormer can't go on the front elevation without full planning.
Also see Permitted development rights for householders – Technical Guidance

Legislation
Permitted development
C. Any other alteration to the roof of a dwellinghouse.
Development not permitted
C.1 Development is not permitted by Class C if—
(a) permission to use the dwellinghouse as a dwellinghouse has been granted only by virtue of Class G, M, MA, N, P, PA or Q of Part 3 of this Schedule (changes of use);
(b) the alteration would protrude more than 0.15 metres beyond the plane of the slope of the original roof when measured from the perpendicular with the external surface of the original roof;
(c) it would result in the highest part of the alteration being higher than the highest part of the original roof;
(d) it would consist of or include—
(i) the installation, alteration or replacement of a chimney, flue or soil and vent pipe, or
(ii) the installation, alteration or replacement of solar photovoltaics or solar thermal equipment; or
(e) the dwellinghouse is built under Part 20 of this Schedule (construction of new dwellinghouses).
Conditions
C.2 Development is permitted by Class C subject to the condition that any window located on a roof slope forming a side elevation of the dwellinghouse must be—
(a) obscure-glazed; and
(b) non-opening unless the parts of the window which can be opened are more than 1.7 metres above
the floor of the room in which the window is installed.
Updated: 3rd February 2022 to refer to Velux
Do you need help with a property? Unsure what to do next?
Book a 30 minute or hour Zoom session with Ian - The Planning Geek to discuss the opportunity that is before you. Click here to book a time that is convenient for your diary. You could be talking to Ian today!
Starts at just £147
'Full of content'
- Mark from Enfield

'Well worth the small cost - saved me hundreds in the long run, going down the wrong hole!'
- Louise from Clapham'
Wow! Ian really is a Geek when it comes to property - so glad we booked an hour'
- Paul & Jo from Newcastle