Shop front alterations?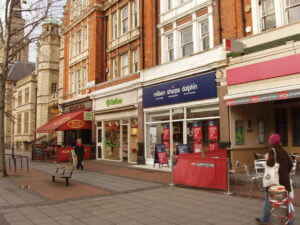 'Do I need permission?' is a very common question here at Planning Geek – do I need permission to make these changes to my house, my flat or my shop? The answer to that is – 'is it development?'
What about shop front alterations – when might you need permission? 
You will need planning permission for any alteration to your shop front which would materially change the appearance of the premises. For example replacing doors, shopfronts and windows are most likely to affect the outward appearance of the property and therefore planning permission is required. 
If the shop is listed, then you will require listed building consent for any alteration inside or out. 
If you need to alter the sign, then you might have 'deemed consent', this is usually true of traditional non-illuminated signs subject to certain criteria. This is defined in the Town & Country Planning (Control of Advertisements) Regulations 2007 (as amended) – Part 2. Back in 2007 the government also produced a booklet on outdoor adverts and signs, which might be useful. If you are in a conservation area further restrictions might apply. Check any supplementary guidance issued by your local authority as part of the local plan as to any restrictions on size and position of signs.
Building regs may be required in any changes that you make to a shop front.
Finally, don't forget the landlord or freeholder's permission for making alterations. The lease will stipulate what you can and can't do with respect to your shop.
Other Common Projects
Many more projects to come.....
Do you need help with a property? Unsure what to do next?
Book a 30 minute or hour Zoom session with Ian - The Planning Geek to discuss the opportunity that is before you. Click here to book a time that is convenient for your diary. You could be talking to Ian today!
Starts at just £147
'Full of content'
- Mark from Enfield

'Well worth the small cost - saved me hundreds in the long run, going down the wrong hole!'
- Louise from Clapham'
Wow! Ian really is a Geek when it comes to property - so glad we booked an hour'
- Paul & Jo from Newcastle