Class G – Shops or Financial establishments to Mixed Use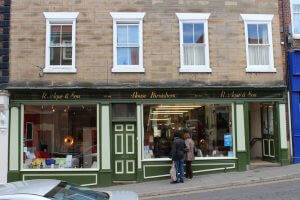 Class G is a useful permitted development right for as long as you meet a few minor conditions you can do this anywhere within England. This works well for shops (A1), Financial or professional establishments (A2), betting office or pay day loan shop which are both Sui Generis.
What does "Mixed Use" mean?
Quite simply it means that you can have up to two flats above shops under permitted development. There is no application form to complete, you can simply do this today, subject of course to building regs. You must have the flats above the commercial element and you can't convert part of the ground floor into a flat.
That's about it on Class G – nothing too complicated and you can just go ahead. It is not restricted in any location such as conservation areas, national parks, listed buildings etc. Although for a listed building you will require listed building consent. The only requirement is that the area above should be connected to the commercial unit below in some way. For example it might be part of the shop, or it might be living quarters, or it could be storage. Yes, using Class G it is possible to take a shop with a flat and convert that flat into two flats. It is always wise to take photographic evidence when doing a conversion such as this. Might come in useful if you need to prove what the area was prior to conversion.
If the shop is large enough why not consider splitting the shop. Once you have split the building down the middle or into more segments you can create up to two flats above each of the shops. How good is that?
If the shop has been in existence since 20th March 2013 you might be able to combine this with Class M. You should also be able to combine it with Class L.
Check out other permitted development options on our changes of use page.
After many requests, we now offer a site appraisal service for just £449. This appraisal will be from a developer's viewpoint letting you know the best options that you might have with your site or building of interest. No point in spending a large amount on professional fees if the deal has large potential issues from a planning aspect. Or maybe we can find new angles that will increase your GDV and potential profit/income! Click here to start the process.