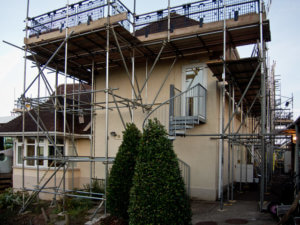 Class AA – enlargement of a dwellinghouse by construction of additional storeys
The General Permitted Development Order (GPDO) has given the ability to add additional storeys in the airspace to many homes by one or two additional storeys. This comes into affect on the 31st August 2020.
You may add up to two additional storeys where the existing house consists of two or more storeys or one additional storey where the property consists of one single storey or a bungalow.
As with any new permitted development rights there are situations where it does not apply! Oh and some rules to stick to in the application as you might expect. Of course there is no guarantee that your foundations were even designed to take an additional storey or two, so take the advice of a structural engineer seriously.
Where can't we benefit from this permission?
They do not apply to houses that have been converted from offices under Class O, agricultural buildings, storage, light industrial, shops or casinos. You cannot build up if your property is in on Article 2(3) land, which is in a conservation area, AONB, Broads, National Park or Heritage site, nor on an SSSI They might also have been removed as a result of an Article 4 or a condition on a previous planning application. If the property was built before 1st July 1948 or after 28th October 2018 then I'm afraid this is also not available. If the property has already been extended upwards, then you do not get a second chance, even if you had full planning. In theory you could do this on a listed building, subject to the criteria below about the design of the principle elevation, although you would need listed building consent!
Finally this right for additional storeys does not apply where the building contains one or more flats. If the property has one or more flats, check out Part 20. In particular check out our easy reference table to see which airspace opportunities apply to which type of properties.

You have said where we can't – so what can we do?
Glad you asked!
You may extend upwards by the additional storeys on a detached property, subject to a prior approval application, up to a maximum height of 3.5 metres on a bungalow or single storey property or up to 7 metres where the existing house consists of two or three storeys. These measurements are the highest part of the house that are permitted. If the property is a semi-detached or in a terrace then you are limited to 3.5m above the other property or the highest part of the terrace on any building. The height of the upwards extensions is also limited by the factor that it can't exceed that of any existing floor to ceiling height or 3m whichever is the lower. Finally you must only extend the principle part of the house upwards and any strengthening works required must be within the boundaries of your own property and those works cannot be visible on the outside of the property.
So far, I think I comply – so what next?
In any construction there are some items you can't do. For example the materials must be of a similar appearance to the rest fo the house, and you can't add any windows to a side elevation including the roof, which must be the same pitch as the existing roof. Once constructed you can only use this for a C3 dwelling house. This will eliminate the future conversion to a C4 under Class L.  You can potentially split this into flats, but you would require planning permission to do this.
So how do I apply or can I do this tomorrow?
Unlike some other extensions, you can't just start work tomorrow! You must apply via a Prior Approval to the local authority for the additional storeys who will consider several elements. This includes the impact on any adjoining property including overlooking, privacy and the loss of light. The design of the property on the principle elevation and that of any side fronting a highway. if you are in a zone that might affect air traffic then this will be a consideration and finally whether the new storeys would affect a protected view. You will also need to inform the local authority how you will mitigate against disturbance to the neighbours and the hours of any construction which must be completed within 3 years of any successful prior approval application.
Finally you can't apply before the 31st August 2020 as before this date the legislation does not exist and would therefore be refused.  When you do apply you must supply drawings showing the elevations and any windows etc.
Updated: 13th August 2020 
After many requests, we now offer a site appraisal service for just £449.
This appraisal will be from a developer's viewpoint letting you know the best options that you might have with your site or building of interest. No point in spending a large amount on professional fees if the deal has large potential issues from a planning aspect.
Or maybe we can find new angles that will increase your GDV and potential profit/income! Click here to start the process.